Konnichiwa, my friends!
On this first post under #TravelTuesday series, I am going to share what my friends and I did and where we went during our trip to Japan in 2018. I hope that this may help you in some way to decide what to include in your itinerary when you visit Japan.
Also, feel free to share with me your tips and suggestions if you have already been to Japan!
1) Shibuya & Harajuku
If you land in Tokyo, it is good to start exploring the city to relax first, and I recommend Shibuya and Harajuku. They are conveniently located near train stations so they are very easy to go to. You can drop by malls and restaurants such as the Tokyo Plaza.
Tokyo Plaza is a shopping mall and it is located in Shibuya, Tokyo. There are a lot of good places to shop here and it is perfect to visit during a chill day to check out some Japanese fashion trends. This is also where you can find the famous reflecting mirror in Instagram!
Located near the Tokyo Plaza is the Takeshita-Dori (pictured left) where you can find the teenage pop culture shops. If you are dedicating a day just to shop, I recommend visiting these places in addition to the famous shopping mall in Shibuya—the SHIBUYA 109 (pictured right) which is located near the Shibuya Crossing. This is where my friends and I bought some clothes and socks for pasalubong!
2) Fun Adrenaline Night at Tokyo — MARICAR GO-KART
Yes, you can drive a Go-kart out on the streets of Tokyo. This is a little bit scary at first, but once you are doing it, it isn't scary at all. It is also fun as you get to dress up as one of Mario characters!
It is also fun as you get to dress up as one of Mario characters!
The adrenaline kicks in because you do have to drive faster than normal (probably around 80 km/h?) so that you would not get left behind. Also, if you are from a country where the driver is on the left side (such as US or Canada), be aware that in Japan, it is reversed! So the condition for turning left is basically applied when turning right! But do not worry, there is a guide who will orient and help you throughout the process. It is impossible to get lost because it is easy to follow the leader and the other participants. You just have to focus, follow the rules and you are good to go. So do not be scared to try this!
Also, depending on the route you choose, you can see different landmarks at night. For us, we were able to see the lit Tokyo Skytree at night.
So if you are bored and looking for a fun night activity, try this out! You can choose from their different locations and times around Tokyo. For us, we chose the Akihabara #2 for 1 hour only. They have other options such as the one in which you can drive through the 'Rainbow Bridge'. (Oooo!) Check their website here.
Lastly, please note that you would need to obtain your International Driving Permit at your home country. If you are from Canada for example and you have your driver's license, just go to any ICBC branch and ask for the Permit. Also, to book in advance for the Go-kart, just Facebook message Maricar. ENJOY!
3) Meiji Jingu Shrine
There are a lot of Shrines in Japan. This is one of the most famous shrines located in Tokyo.
I like going to this shrine because there is a place where you can actually write down a wish or a prayer and put it in a box to be placed as an offering as per their tradition.
You can also enter the main shrine where you can make a wish, but before that you have to follow the tradition of washing your hands first. (According to our Japanese friend, the tradition is that, before entering any shrines, you have to go to one of the wells like the picture below and wash your hands; as a symbol for purification)
You can also see here the Sake barrels which, according to the culture, were donated to shrines for Shinto ceremonies, rituals and festivals. This is because Japanese people believe that Sake acts as a symbolic unification of Gods and people.
4) Asakusa, Tokyo (pronounced: A-sak-sa)
Interested to have a Japanese kimono experience? If the answer is yes, then this one is for you. Check out the kimono rentals at Asakusa and walk through the Orange Street and the streets by the Sensoji Temple. You can also get some treats to try here! Matcha ice cream (and I am talking about legit matcha), bubble tea and more! There are also a lot of souvenir stands and shops! And just a PRO-TIP: ask for people to take pictures of you, volunteer to take pictures of others and start conversations! We actually met new friends through doing that. (they are pictured down below)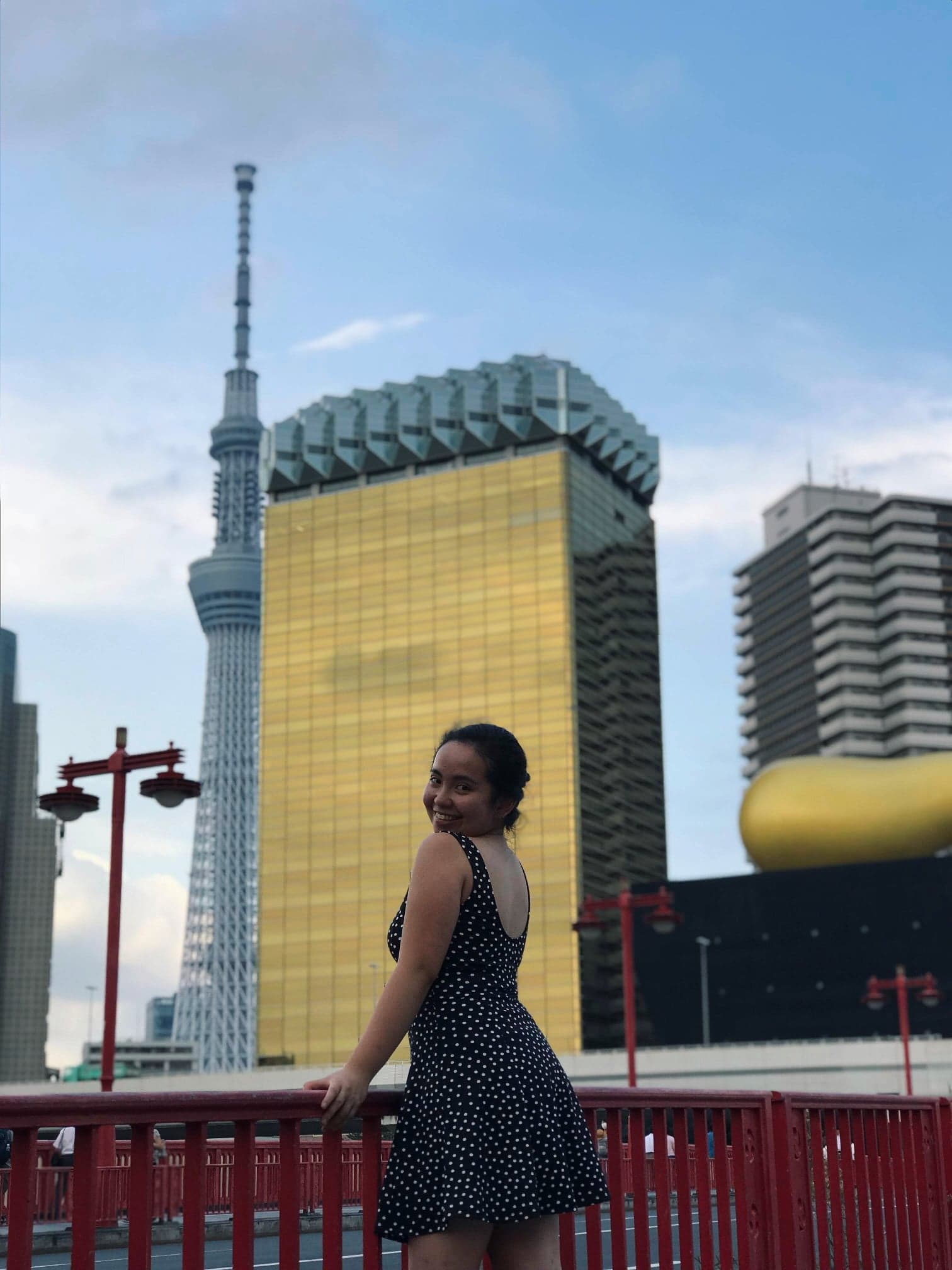 Have a quick photo shoot in the nearby bridge overlooking the Tokyo Skytree and the ASAHI building (Asahi beer)!
5) Shibuya Crossing
Need I say more? I am sure this is listed already as one of your must visit locations in Tokyo.
I do recommend trying out Starbucks (there is one overlooking the Shibuya Crossing!) because they have some different food and drinks that you cannot get elsewhere. #PRO-TIP
And of course, who cannot forget the famous HACHIKO DOG?
Hmm. Don't know who Hachiko is? I recommend you to watch the movie Hachiko: A Dog's Story first before heading there, or just read this article.
Nevertheless, going to Shibuya and having a picture with the dog statue is already something.
And that's it for now! I hope that you enjoyed and liked this little mini-guide. Stay tuned for more posts about Japan!
Love,
JS